Several of Stockhouse's larger Bullboard hubs have set off serious debates on the future direction of some companies following significant moves this past week.
Though a few of these companies have been basking in good news, most of the heated discussions this week concern companies that were trending in the opposite direction.
One market that has been seeing impressive highs contrasted with deep declines in a short period of time is the technology sector ….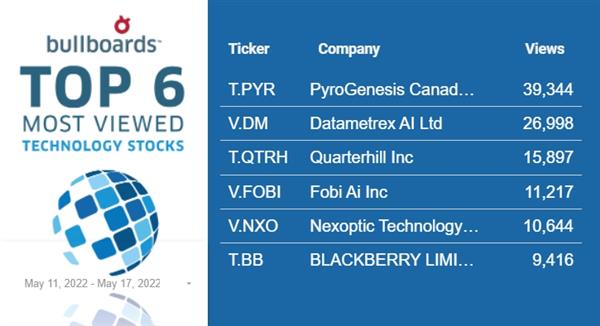 Once known for being the world's largest smartphone manufacturer, BlackBerry Ltd. (TSX: BB, Forum) is now exclusively a software provider whose QNX OS has been certified by the European Electrotechnical Committee for Standardization (CENELEC) for use in the railway industry.
According to the company, the QNX system has been proven relevant in several industrial controls, automotive and medical applications. Now the software will provide the same support within the railway industry.
The European certification followed BlackBerry's recent signing of South Korea's Traffic and Portugal's Infraestruturas de Portugal, to use QNX.
"Rail transportation is growing rapidly as trends such as urbanization, green energy, digitalization, and autonomous rail technology drive demand for modern and smart railway systems… know they can trust BlackBerry QNX to provide the software building blocks for their robust, safe, and secure embedded systems." said Grant Courville, Vice President of Products and Strategy at BlackBerry QNX.
---
What the "Buzz"
Our Bullboards have up to 2 Million pageviews a day. Get the inside scoop on conversations around the most significant trends and stock appreciations in our weekly wrap up.
Get "Buzz on the Bullboards" delivered to your inbox every Thursday!
---
The company believes that the certification will be a helpful tool as it grows its supply for software-driven infrastructure investments.
"With worldwide supply chain disruptions across many traditional transport modes, the rail industry is poised for massive growth and thus the certification of the QNX OS for Safety to the key railway functional safety standard could not have come at a better time… Because the software-defined railway system is a pillar of this growth, functional safety will be the foundation," said Adhish Luitel, a senior analyst at ABI Research.
One of the biggest wounds to the tech sector of late has been the tumble of non fungible tokens, cryptocurrency, and the metaverse. The market was banking on these three pillars being transformational, but that has not panned out so far. We posed the question to our audience in last week's Investor Pulse Poll if this downward spiral has checked your portfolio into the boards and it seems like most of you have dodged that shoulder check.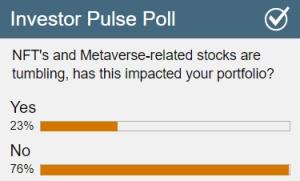 This week, we want your thoughts on the re-emergence of travel-related stocks, be it for vacations, like airlines and cruise ships, or simply anything related to travel around your home base. Though COVID restrictions are easing, geopolitical tensions combined with a higher cost of living (especially where gas is concerned) have put tensions on these stocks, do you still have eyes on this market? Let us know your thoughts by clicking the image below to cast your vote.
Sticking with this transportation theme, Two school districts in Alberta have contracted Gatekeeper Systems Inc. (TSX-V: GSI, Forum) to equip school bus fleets.
A provider of intelligent video solutions for public transport and smart cities, Gatekeeper Systems provides video and data solutions designed to provide a safer transportation experience by using AI, video analytics, thermal cameras, and mobile data collectors.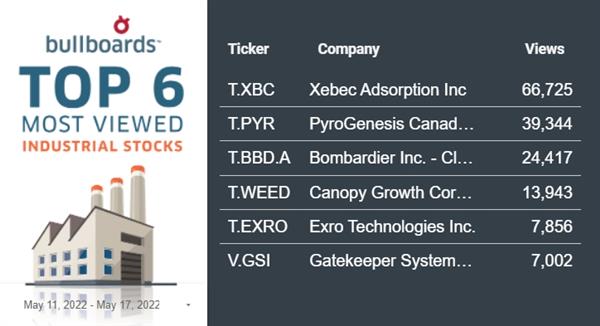 Gatekeeper says the intention of this project is to help keep school children safe. Approximately 170 school buses will be equipped with the company's technology.
"Our existing customers continue to expand our solutions throughout their fleets when they have budget to do so," said Doug Dyment, the company's President and CEO.
The Albertan school districts are existing Gatekeeper customers and are completing the fleet build out of mobile data collectors, internal video. Some buses will be outfitted with the company's Student Protector stop-arm camera solution.
"School bus safety remains a top priority and our video and data offerings are very effective in helping to protect school children," he added.
According to the company, it has installed approximately 40,000 intelligent mobile data collectors and 100,000 video devices on school buses, for over 3,500 school district customers.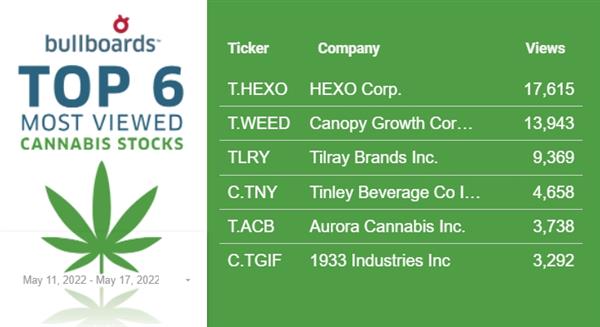 HEXO Corp. (TSX: HEXO, Forum) will file a management information circular by next week in preparation for its upcoming shareholders' meeting.
Transactions contemplated in the proposed amendment include the company's outstanding senior secured convertible note to be assigned to Tilray Inc. (NASDAQ: TLRY, Forum) according to a transaction agreement and the assignment and assumption agreement entered by Tilray, HEXO and HT Investments MA LLC.
The amendment also covers the equity purchase agreement with HEXO and an affiliate of KAOS Capital Inc. as a step forward in executing on HEXO's strategic plan.
Further details concerning the transactions and related agreements will be set out in the circular and the transactions remain subject to compliance with the requirements.
Considering the worsening stock market conditions and a decrease in HEXO's share price, the KAOS affiliate and HEXO have agreed to an amendment. The affiliate will now initially receive 10.8 million HEXO common shares as a standby commitment fee versus the originally agreed 7.55 million common shares.
COVID-19 had its time to monopolize investor attention, but every sector is seeing a rise in prominence. Has the small-cap tide turned back in the favor of cannabis for good, or will we see another change in the most-talked about companies? Check in on next week's Buzz on the Bullboards weekly review to find out. For previous editions: click here.
---
Get "Buzz on the Bullboards" delivered to your inbox every Thursday!
---