It has been a sizzling few days recently for most of North America, both weather-wise and for investing discussions. The markets face a rate hike in the U.S., ongoing inflation, rising oil and falling gold.
Much of the discussion happens on the Bullboards, and our Buzz on the Bullboards articles help you review the companies and topics that are trending in the community.
This week we're looking at leading sectors and a few companies that made some very impressive leaps. Were they temporary strides, or markers of continuous (and possibly upwards) momentum?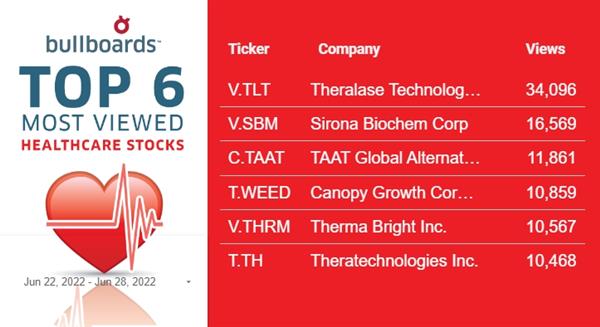 Theralase (TSXV:TLT) has expanded its intellectual property portfolio regarding photo dynamic compounds. The company's photo dynamic compounds are designed to produce free radicals to destroy cancer cells from within with minimal impact on healthy cells.
The patent – "Metal-Based Thiopene Photodynamic Compounds and their Use" – advances the company's anti-cancer technology, including its lead TLD-1433 compound approved by Health Canada for a phase II non-muscle invasive bladder cancer (NMIBC) clinical study.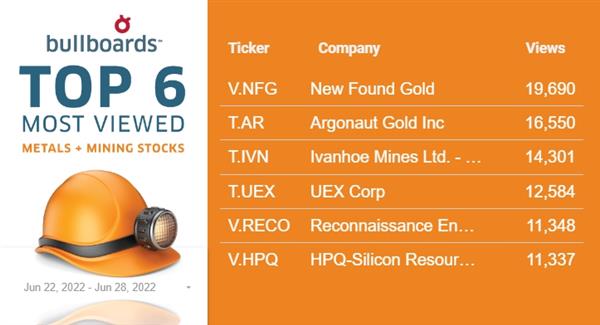 Argonaut Gold (TSX:AR) has confirmed the estimated cost of completion of the Magino project and a funding package to finance the project's construction. The company recently completed a detailed review of the estimated cost to completion (EAC) of its Magino project and now estimates the EAC to be approximately C$920 million. This is an increase of C$120 million from the December 14, 2021, EAC of C$800 million.
As of May 31, 2022, Argonaut Gold had committed approximately C$659 million and had incurred approximately C$473 million. It estimates the project is approximately 50 per cent complete and that the project remains on schedule for first gold pour by the end of March 2023.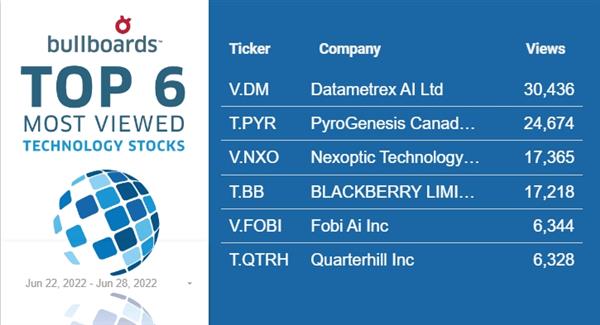 Datametrex's (TSXV:DM) Medi-Call app is now available for Android users in Vancouver, B.C.
Medi-Call provides subscription-based telehealth services, such as, one 360-degree quarterly in-home wellness visit (checkup), free prescription refills, access to an expert nursing team, as well as safe and secure electronic medical record keeping that follows a patient geographically. The company is in the approval process for an iOS release on the Apple store.
As we're learning, each sector is experiencing the uncertainty ride differently, and we want to know where your money is at! With many of our top sectors and most-viewed companies changing regularly, it's important to check in and see where small-cap investors are focusing their investments.
Of course, the story for each sector is likely to change by next week, and sometimes even more quickly. It's more important than ever for small-cap investors to stay up to date on the current conversations and company movements, and there's no better place than the Bullboards.